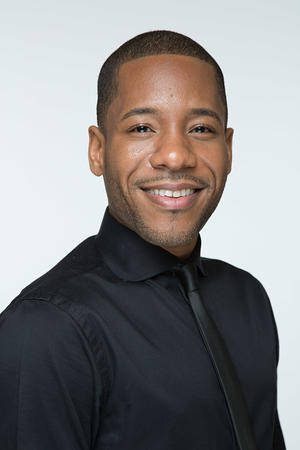 Hassan Anderson, Oboe
A multitalented artist, American oboist Hassan Anderson is a soloist, chamber musician, and teacher. Noted for his clarity of tone, range of colors and energetic stage presence, Mr. Anderson is the oboist of the acclaimed innovative New York-based chamber music ensemble SHUFFLE Concert, a position he has held since 2011. With the ensemble he has toured Israel three times, performed on series throughout the US and Canada, including the Duplex, Weill Recital Hall at Carnegie Hall, the Rose Studio at Lincoln Center, New York's Rhinebeck Chamber Music Society Series , Los Angeles's L'Ermitage Concert Series, Pennsylvania's Lancaster Performing Arts Center and Pepperdine University Center for the Arts in California, as well as at such distinguished summer festivals as Cooperstown Music Festival, Buck Hill Skytop Music Festival, Canada's Chamberfest Ottawa, to name a few.
A popular collaborator, amongst his numerous guest appearances with distinguished ensembles are performances with the American Ballet Theater, Orpheus Chamber Orchestra, Jacksonville Symphony Orchestra, the Jupiter Symphony Chamber Players, East Coast Contemporary Ensemble (ECCE), Harlem Chamber Players and the Juilliard Orchestra.
Mr. Anderson has recorded an album of works by various artists including Schumann, Gershwin, Avner Dorman (world premiere) and Jonathan Keren (world premiere) with SHUFFLE Concert (in house label, October 2013). He is also featured on "Unremembered", a song cycle by Sarah Kirkland Snider (New Amsterdam Records, September 2015). With SHUFFLE Concert, he can next be heard on their upcoming CD to be released in 2016-17, which will include the commissioned world premiere of Piotr Szewczyk's Twisted Dances for Oboe, Violin, Cello and Piano.
Equally adept in the classical and jazz genres, and dedicated to the next generation of musicians, Mr. Anderson regularly schedules teaching opportunities around his performances. He has served as a teaching artist for Carnegie Hall and The Little Orchestra Society in New York City, and Jazz House Kids, the only community arts organization in New Jersey exclusively dedicated to educating children through jazz. Currently, Mr. Anderson serves on the faculty of the renowned Juilliard School Music Advancement Program, and as Assistant conductor New Jersey City University Orchestra, a post he has held since 2014.
Born in Florida to a business oriented family, Mr. Anderson is the first in his family to pursue music. He began his musical studies with Dr. Joseph Haygood, and then worked with Eric Olson of the Jacksonville Symphony Orchestra. He received his Bachelor of Music from Florida's Stetson University, where he studied with Dr. Ann Adams, and his Master of Music degree from The Juilliard School. During the summers of 2010-2012 Mr. Anderson was the recipient of a fellowship at the Marlboro Music Festival, where he collaborated with artists such as pianist Mitsuko Uchida and Richard Goode, flutist Marina Piccinini and clarinetist Anthony McGill. In his spare time Mr. Anderson enjoys reading, cooking, and spending time with his wonderful friends.