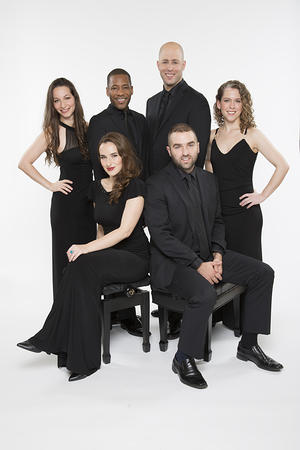 Biography
A modern day ensemble that delivers the unexpected. Inspiring and energetic, New York-based chamber music ensemble SHUFFLE Concert changes the rules of performance as we know it. Conceived by SHUFFLE's artistic director and pianist, Eliran Avni, SHUFFLE was born while Avni was exercising on the elliptical machine at the gym. His MP3 player jumped from a Pretenders song to the first movement of Prokofiev's Fifth Symphony, nearly causing him to lose his balance… and thus, the idea for SHUFFLE was born!
Unique to SHUFFLE's performances is the manner in which the program is selected. The audience is invited to actively participate in the selection of works to be performed by choosing from a menu of over 30 works derived from 15 different styles, with works ranging from solos and duos, to trios, quartets, quintets and sextets. Genres vary from classical, baroque, and romantic, to Jazz, Latin, and Broadway. The result is a highly engaged audience and a high energy performance.
SHUFFLE's members are exceptionally accomplished chamber musicians; they are graduates of such schools as Juilliard, New England Conservatory, Oberlin, Manhattan School of Music and Bard College and have all individually won numerous prizes and have performed extensively as soloists and collaborative musicians throughout the world.
Since its inception, SHUFFLE has performed in a variety of concert settings, including the Duplex, Weill Recital Hall at Carnegie Hall, the Rose Studio at Lincoln Center, Merkin Hall and Rhinebeck Chamber Music Society Series in New York; Buck Hill Skytop Music Festival in Pennsylvania; Molloy College in Long Island; Los Angeles's L'Ermitage Concert Series, Lancaster Performing Arts Center and Pepperdine University Center for the Arts in California, and Canada's Chamberfest Ottawa, and presented residencies at East Stroudsburg University and Gettysburg College in Pennsylvania; Mirman School in Los Angeles; The Dalles Middle school, Oregon; and the International School in Herzeliya, Israel, to name a few.
In December 2012 the ensemble made its New York City Merkin Hall debut which was broadcast on WWFM and WQXR, and which included the premieres of new works by Avner Dorman and Jonathan Keren. The ensemble's debut eponymous CD was released in October 2013, and in 2014, to celebrate its fifth anniversary, SHUFFLE introduced its first Composition Competition, awarding prizes to composers Piotr Szewcyzk, Kevin Wilt and Oran Eldor for their original compositions for the ensemble.
Last year, in July 2016, SHUFFLE released its long-awaited Interactive Video Project which allows presenters and audiences to choose their own musical adventure in the comfort of their own home. The video includes five segments, each in a different musical style. The viewer is invited to watch them in any particular order of their choice. In addition, the ensemble also released two short trailer videos from live performances in October 2015 at the McCallum Theatre in Palm Desert, CA and Merkin Hall. The first trailer explains the SHUFFLE rules and the second presents audience responses to the SHUFFLE concept and performances. Both can be viewed on the Media page on the SHUFFLE website.
In 2016-17, SHUFFLE has toured extensively throughout Israel, and performed coast to coast in the U.S. with concerts at Clemson University, SC, The Gordon Center for Performing Arts in Baltimore, MD, Shawnee State University in Portsmouth, OH, and the Robert Z. Hawkins Amphitheater in Reno, NV.
For the coming 2017-18 season, SHUFFLE Concert is creating an exciting, new project titled "1933," a unique concert experience dedicated to music composed and premiered during this pivotal year in human history. Scheduled to premiere in January of 2018 at the Dell E. Webb Center in Wickenburg, Arizona, "1933" will feature SHUFFLE's interactive musical program with a multimedia visual presentation of historic events, art and architecture of the period, and illuminated by an original lighting design.
Note: In the event of absolute necessity, the management reserves the right to alter the ensemble members and to change dates or types of performances previously advertised.
Click here to learn how you can help support SHUFFLE and receive a great SHUFFLE Thank You Package!