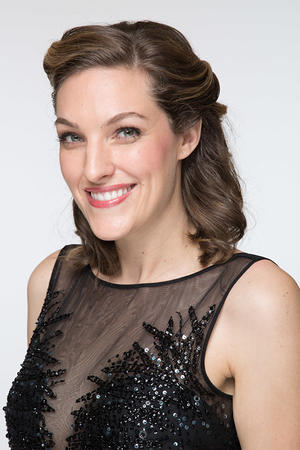 Adrienne Pardee, Soprano
"Vibrant" (Boston Globe) soprano Adrienne Pardee has been praised for her "lovely tone, impressive control, and rapt attention to the score's myriad details" (ChamberMusicToday). Recent appearances include the title role in Milhaud's opera L'enlèvement d'Europe (directed by Mark Morris) and the First Priestess in excerpts from Gluck's Iphigénie en Tauride with Susan Graham and the Boston Symphony Orchestra. She also performed Milton Babbitt's chamber work No Longer Very Clear, for which The New York Times praised her ability to sing the work's "athletic soprano line . . . with an urbane charm."
A great lover of art song, Ms. Pardee has been privileged to study and perform this repertoire at music festivals such as Tanglewood, Songfest, the Aspen Music Festival, and the Crane School of Music's Fall Island Institute, where she was one of six singers selected by mezzo soprano Stephanie Blythe. She has worked with leading interpreters in the field, including Dawn Upshaw, Stephanie Blythe, Graham Johnson, and Lucy Shelton, among others. She was most recently seen giving performances of French and Japanese art songs as part of the 2012 Chelsea Music Festival in NYC.
An experienced performer of contemporary music, Ms. Pardee recently appeared with Boston's Callithumpian Consort singing Nicholas Vines' Economy of Wax at Jordon Hall in Boston (a recording of which will be released on Parma Records in late 2012). She also performed Schoenberg's Pierrot Lunaire and Carl Schimmel's 4 Nocturnes from the Oblivion Ha-ha with the Con Vivo Ensemble, and appeared with the Washington Square Contemporary Music Society at Merkin Concert Hall as the soprano soloist in Bernard Rands' Fragments from Sappho
Recent operatic engagements include singing the role of Fortuna in Monteverdi's L'incoronazione di Poppea, Zerlina and Susanna in Mozart's Don Giovanni and Le Nozze di Figaro, Adina/Giannetta on tour throughout the Midwest as a Young Artist with Tulsa Opera, covering Zerline in Auber's Fra Diavolo, as well as performing the roles of Bessie/Blanche on a premiere recording of Louis Karchin's new opera, Jane Eyre.
Ms. Pardee received a Master of Music in Vocal Performance from the Manhattan School of Music and Bachelors of both Music and Arts from Northwestern University.